Date:- 15/07/2018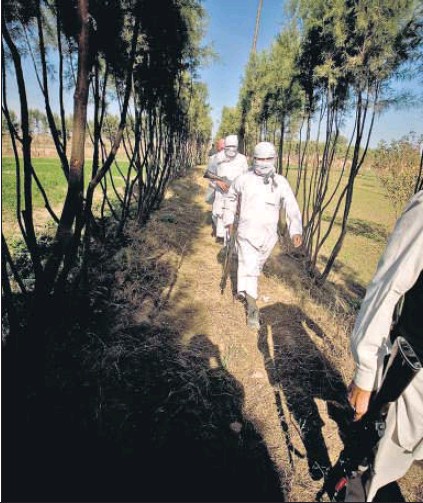 Opening The Spigot
Vikram Sood's
This excerpt from former RA&W chief Vikram Sood's book looks at the funding of terrorist organizations deployed by Pakistan against India
The end of the Afghan jihad only meant that the Pakistan establishment moved its jihadi foot soldiers to Kashmir in the 1990s. This too was massively statesponsored to begin with, but when there was pressure on Pakistan, it began to privatize this business of jihad in India. Successive Pakistani governments have viewed the use of expendable jihadi fighters as a sound and cost-effective strategy against India. It helped to keep the Indian threat alive while the Pakistani army could continue to retain its primacy while its regular soldiers remained safely ensconced in their barracks or plush farms in Okara, Punjab. Pakistan has deployed a huge phalanx of terrorist organizations against India, one of the deadliest among which is LeT. Created in 1987 with seed money from Osama bin Laden, LeT quickly became a favourite of the ISI. Its creed — Ghazwa-e-Hind (Islam's victory in the final battle against India) — was particularly enchanting to the Deep State of Pakistan. LeT entered the Kashmir terror scene in the 1990s when the ISI was busy diversifying jihad on the Afghan model. Its zealous cadres won acclaim. It continued to have links in Afghanistan, received generous donations from the Middle East... and the support of Pakistan's Army and the ISI. ..
New recruits to Lashkar­e­ Taiba being trained in Mattani, North­West Frontier Province, Pakistan, in this picture dated December 22, 2009.
…Waging jihad or any form of terror is a financially profitable enterprise and the Deep State has opened the spigot. Money is never a problem, even in times of global distress, for this state-aided terrorism that is described as an independence struggle. Estimates in 2006 (Herald magazine, Karachi) were that the ISI was spending $50,000 to $60,000 on it per month. The 26/11 terror attack in Mumbai in November 2008 may have cost approximately a million dollars… It is estimated that Pakistan's ISI was earning Rs 500 crore (about $75 million) annually a few years ago through the circulation of fake Indian currency notes worth Rs1600 crore. This may not be a large sum in terms of the total amount of notes in circulation but as far as neat profits are concerned it is substantial. On each note circulated, the ISI would skim off 30 to 40 per cent, making Indian money subsidize terror against India.
…A secret US report estimated some years ago that the annual military operations budget of LeT was about $5.2 million. One operating season in a sector of Jammu and Kashmir for a single terror group cost about Rs 250 million. Add to this the number of terror groups that Pakistan has thrown at India and one can deduce that this figure would be upward of Rs1000 million. These figures had spawned overnight millionaires in Pakistan and some in Jammu and Kashmir too… LeT has now had a close association with Dawood Ibrahim, with activities like kidnapping, narcotics smuggling, fake currency and extortion money routed through hawala channels. Pakistan maintains its farcical denial or studied ambiguity about state sponsorship despite all evidence leading to the doors of the military and the ISI.
…Some years ago, the Punjab government in Pakistan granted about $9.3 million to JuD, which was banned following a UN decision to list it as a terrorist organization. When questioned by Sherry Rehman, a Pakistan Peoples Party member of Parliament, the government response was that since the ban its functioning had been taken over by the government, making it a social welfare organization.
LeT has a global agenda and involvement. It began with activities in Jammu and Kashmir that spread to the rest of India from the 1990s and continue till today. It was associated with the Haqqani Network terror attack on the Indian Embassy in Kabul that killed fifty-eight persons in July 2008. In November that year, an attack that lasted three days in Mumbai killed 166 persons. LeT and the Taliban along with other Pakistani terror organizations attacked a US outpost at Wanat, Nuristan, in July 2008. Their training camps were an attractive destination for shelter and training for several American, Canadian, British, French and Australian Muslims.
...A few years ago, there were reports and assessments that Pakistan-based terror groups had begun to use Indian banks. Indian associates were said to be... operating about 350 accounts in the State Bank of India, Punjab National Bank, ICICI and other banks. Bank robberies to augment terror funds by the self-styled Indian Mujahideen took place in 2013. Yaseen Bhatkal, the India operations chief of the Indian Mujahideen, admitted to having received Rs 4,00,000 by hawala transfer around the time of the Mumbai terror attacks on 26 November 2008. It has been suspected that terror groups work with some NGOs that do not file details of foreign remittances received by them, leading to the suspicion that they may be involved in terror finance and money laundering. Given the state of India–Pakistan relations, it is unrealistic to hope that Pakistan will extend any cooperation to control and eradicate the threat of terrorism emanating from its own soil. On the contrary, when India warned Pakistan of a likely terror attack on Musharraf in 2004, they received two 'thank you notes' in the form of terror attacks in Mumbai in July 2006 and November 2008. When the Paris bombings took place in 2015, there was immediate cooperation among all European nations, and Belgian authorities arrested the suspects. This kind of cooperation from Pakistan, where India is virtually asking them to confess to murder, is unthinkable. For Pakistan, LeT's goals in India are similar to those of its army, which makes the organization their prime jihadi force against India…
Courtesy: Hindustan Times: 14 Jul 2018