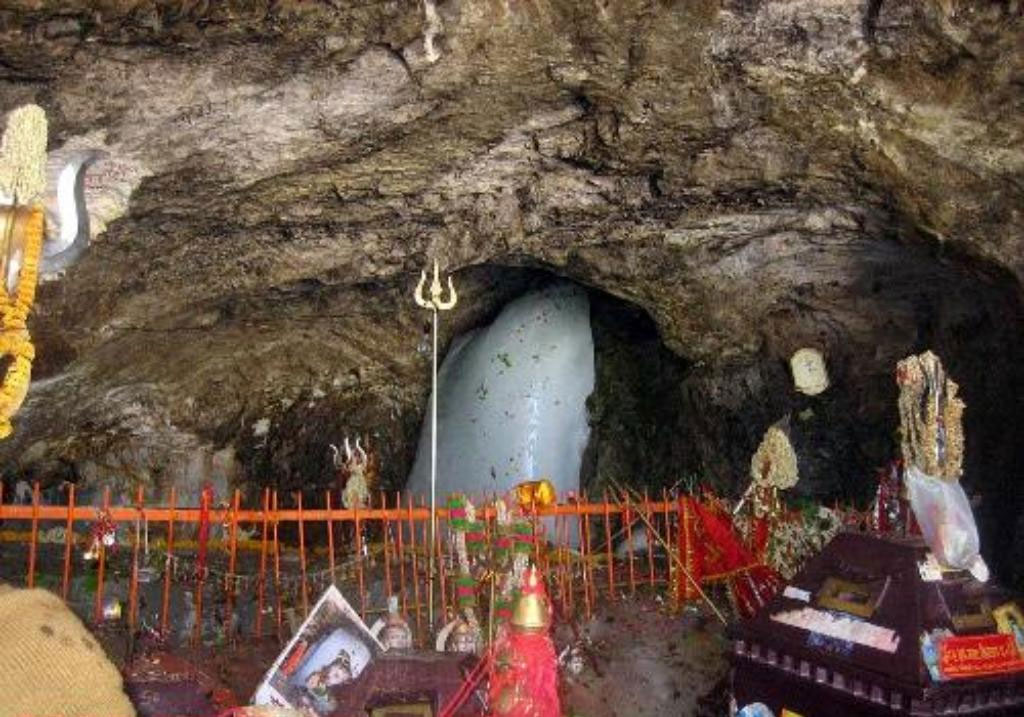 But on the spot of their meeting discovered a cave, and eventually this became a place of pilgrimage for all believers. To date , a percentage of the donations made by pilgrims are given to the descendents of Malik, and the remaining to trust which manages the shrine.
Ye another legend has it that when Kashyap Rishi drined the Kashmir valley of water the cave and lingam were discovered by Bregeish Rishi who was travelling the Himalays. When people heard of lingam Amarnath for the became Shiva's abode and a centre of pilgrimage.
Situated in a narrow gorge at the farther end of Lidder valley, Amarnath stands at 3888 mtrs and 46 Kms from Pahalgam and 141 Kms from Srinagar. Though the original pilgrimage subscribe that Yatra be undertaken from Srinagar , the more common practice is to begin journey from Chandanwari and cover the distance to Amarnath and back in 5 days. Pahalgam is 96 Kms from Srinagar. the trek from Chandanwari to Cave is on an ancient peregerine route. pilgrims camp at Pahalgam or Chandanwari on the first night out.
The first day's trek of 12 Kms from Chandanwari is through spectacular primeval country side and the main centre of attraction is Sheshnag a mountain which derves its name from seven peaks resembling the head of mythical snake. A cascading stream accompanies you with wild scenery untouched by modern civilzation. The second night camp at Wavjan overlooks the deep blue waters of Sheshnag lake and glaciers beyond it. The tales of love and revenge associated with Sheshnag are recounted by campfires to the stillnes of pine scented Himalyan night
The second day 12 km trek steadily gains height winding across Mahagunas Pass at 4600 mtrs and then descendeing to the meadow land of Panchtarni the last camp enroute to Amarnath Cave.From Panchtarni to Amarnath the distance is 6kms and an early morning start is recommended for there is long queue awaitning entry at the cave. The same day devotees after darshans can return to Panchtarni in time for lunch and continue upto Sheshnag for night halt. For those who journey with faith it is a rewarding experience.